PC Monitor Expert Introduction
PC Monitor Expert is a trustable computer monitoring product. It can record all keystrokes, screenshots, window accesses, running of programs, etc. of the monitored computer. It can also prohibit the use of any programs, apps, chat software, download software or game as you want. Once a trial to open a prohibited program is found, the program will be closed forcibly and this action will be recorded.
Meanwhile, PC Monitor Expert can send the monitored records to your mailbox which makes it convenient for you to keep tabs on the target computer remotely.
This program is installed in total stealth and can be launched by using a hotkey. PC Monitor Expert is ideal for both business and home users looking to monitor or restrict the use of computer resources.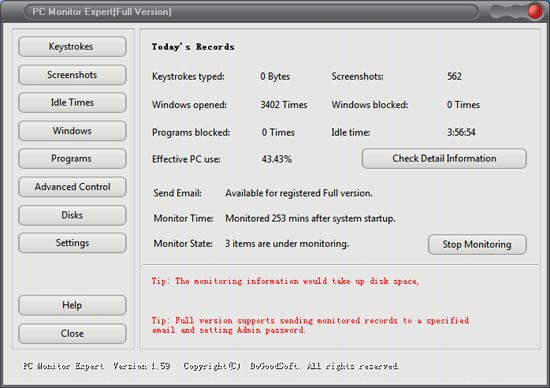 PC Monitor Expert Features
Keystrokes records: Log all keystrokes including English and Chinese characters, numbers and functional keys pressed. Skype chats, e-mails sent, usernames and passwords logged in some websites or mailboxes will also be recorded (Warning: DO NOT use this monitoring software for illegal purpose. It does not record sensitive passwords like Skype password).
Timing screenshots: Timing screenshots of Skype chat window, the active windows and the entire computer screen, which is convenient for you to control every operations performed on the computer.
Window monitoring: Record each opened window title and the time to open it. Prohibit opening the windows containing specified keywords in the title. In this way, all windows containing the keywords will be filtered automatically and PC Monitor Expert will forcibly close them. Record the actions of opening the prohibited windows and the time to open it.
Program monitoring: Prohibit running the specified programs (PC Monitor Expert has preset 30+ gaming programs). If a trial to run a prohibited program is detected, PC Monitor Expert will forcibly shut down the program and record this breach.
Advanced control: Disable chat software like Skype, disable web browsers such as IE and Maxthon, disable download software like BT, prohibit changing the system time, disable Registry, Task Manager(to prevent from ceasing active programs illegally) and Control Panel.
Advanced auxiliary features: PC Monitor Expert can send all monitored records (such as keystrokes, screenshots, active windows and breaching behaviors) to a specified mailbox, so you can monitor over Internet as you wish. You can set a password for using PC Monitor Expert, thus no one can change its settings or remove it without the correct password. Besides, PC Monitor Expert supports shut down the computer at a specified time. Other advanced features such as Lock file, disk control and computer idle records.