PC Management
PC Management provides users with 10 features: Disable the specified programs and windows, disable chat software, disable download software, disbale compression software, disable web browsers, disbale online video players, disable Registry, disable Task Manager, disable Control Panel and prohibit changing the system time.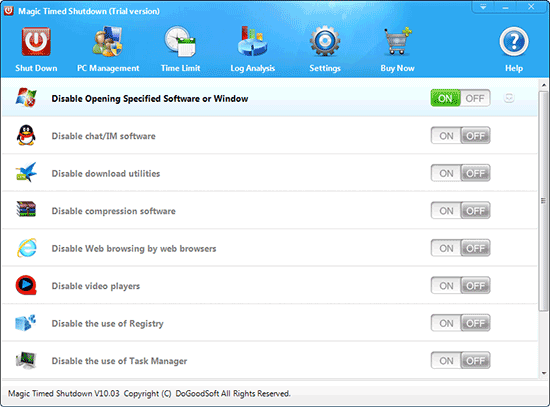 It is easy to use PC Management. Start Magic Timed Shutdown, click "PC Management", and click the On/Off button on right side of each item to quickly enable or disable a task.
When "Disable Opening Specified Software or Window" is enabled, you want to add new software and windows, please follow the steps listed below:
Switch to On at Disable Opening Specified Software or Window item, click edit icon at right side (see the red circled icon) and an edit menu appears. Click Edit Software List/Edit Window List to edit the disabled software or windows list.
Magic Timed Shutdown has preset some disabled software and windows, and you can edit or delete them according to your needs.

Here we will show you how to add disabled software or windows respectively.
Add disabled software
1. Select "Edit Software List" from the menu, and then click the Add button below.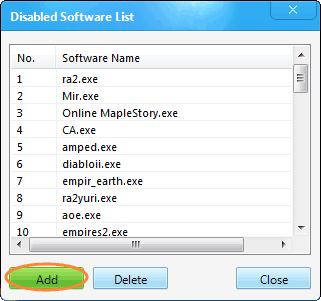 2. Find and open the installation directory of the software you want to disable, select the .exe file and add it to the list.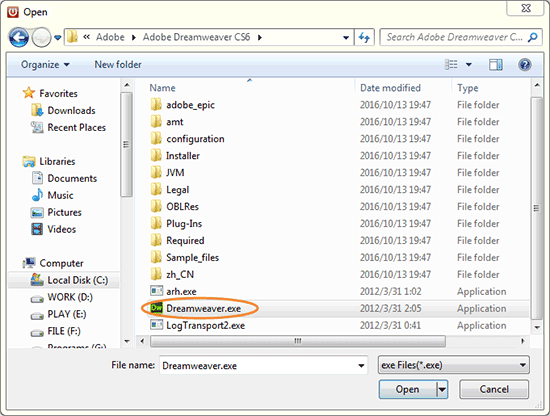 Add disabled windows
Select "Edit Window List" from the menu, and then click the Add button below. Enter the window title or the keywords contained in title, and click OK. For example, enter Skype, then all windows related to Skype are disabled.